Trombay Township Fine Arts club (TTFAC) has been in the forefront in fulfilling the cultural, artistic, literary and social life of the residents of Anushaktinagar, Mandala and the adjoining areas since 1969.
TTFAC enjoys patronage of thousands of people including its subscribing members, their family members and a large number of well-wishers. The club has been instrumental in introducing thousands of children to dance, music, drawing, acting, writing and learning. Many well known artists, musicians and theatre groups have performed under our auspices.
We nurture excellent in education by awarding prizes regularly to meritorious students. We also conduct language classes.
Over the years, the club has also been organizing Bharathanatyam, Moniniyattam, Drawing, Instrumental and Vocal Classes for the budding youngsters of Anushaktinagar and adjoining areas.
The club is also running a Library with thousands of books and attached an reading room. We arrange literary debates, invited talks on art, literature, current affairs and poetry recital sessions, on regular basis. Competitions are conducted every year in Quiz, Light Music, Classical Music, and Classical/Folk Dances, Drama, Painting etc. Our success is due to the wholehearted efforts of our volunteers and the co-operation and dedication of all members, well wishers and the patronage of many noble individuals and institutions.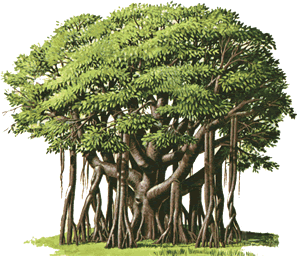 The Indian scriptures mention the banyan tree as a tree of immortality. The banyan tree is ever green and has an ability to survive and grow for centuries. The vat vriksha, as it is locally known, is an enormous tree with many uses and with a vast history. It is considered sacred and representative of eternal life and symbolizes the personality of a benevolent ruler or head of family who nourishes and looks after all those under his care. In our villages, the banyan tree is often used as a meeting place by the entire community after a hard day's work. They relax, they discuss issues and they arrive at solutions. In contemporary India, the banyan tree is a national tree and its linked roots and branches are sometimes used to symbolize the country's unity.
Now, why all this information about a tree which we are all very well aware of. If we think analytically, can we not find many similarities between the banyan tree and our own Club, The Trombay Township Fine Arts Club? In fact, one may have to really struggle very hard to look for any dissimilarity. To me, our Club is like a banyan tree with its continuous growth over the years, surviving all onslaughts but still nourishing and nurturing us and taking good care of all of our social needs.
The opening lines of a great book "Ignited Minds" written by our president Dr.APJ Abdul Kalam says:
DREAM, DREAM, DREAM
DREAMS TRANSFORM INTO THOUGHTS
AND THOUGHTS RESULT IN ACTION
Great lines come from only great men. Yes, indeed, 37 years ago, the founding fathers of our Club would have dreamt of many things for our Club and its members, the results of which are right in front of us for every one to see, but one would really doubt that they would have ever dreamt of a WEB PAGE for our club. Yes, it is definitely a great achievement Henry David Thoreau, an US author and naturalist had once said "what lies before us and what lies behind us are small matter compared to what lies within us. When we bring what is within, out into the world, miracles happen". Very few Clubs or Associations of similar nature in Anushaktinagar or for that matter in Mumbai would be able to talk of a web page of their own. It indeed is a miracle, it indeed is an achievement.
The seeds of this banyan tree were sowed in the year 1969 by a few visionaries and in the year 1970 the Club's constitution was framed. The year had another first to its credit. The first locally organized Malayalam play "VISHAKATTU" by Shri C.L. Jose was enacted by the Club members to the amazement of one and all. Subsequently, in the year 1972, the Club got its registration (15.3.1972) and has then, never looked back. One of the most popular activities of the Club, the Bharatnatyam classes, started this year and in the very next year, the public screening of Malayalam films commenced and who can forget the first one, an old classic "KAVALAM CHUNDAN". Soon, a need was felt by the members that their children should be able to read and write the mother tongue rather than only be able to converse in it. And thus, this marked the beginning of the MALAYALAM CLASSES, which is presently conducted at Anushaktinagar and New Mandala on all Sundays.